At Capacity
Womens Open Championship 2014 #WOC2014 Kickball · Female Circuit Championship Weekend
Sold Out
Team Fees

Regular

$60.00

per player

Late

$70.00

per player
Kickball365 is the home for kickball competition in America.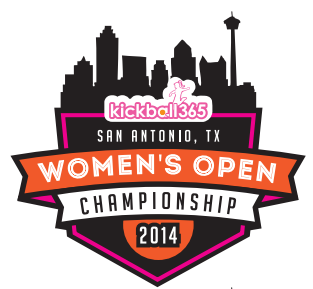 Kickball365 enables people to make friends and have fun through one-of-a-kind tournament vacation experiences. Kickball365 is about love of the game. The Circuit is about challenging yourself against the best. Our goal is to offer the country's most competitive teams and players a setting where they can showcase their hard work and talent and be rewarded for the time and effort that they invest in this sport they love so much. The Circuit is a national collection of tournaments, offering players and teams nationwide the chance to compete for cash prizes along the road to the ultimate prize, The Circuit Cup, which is awarded to the top competitive kickball team in the country.
Please note MALE Captains ARE REQUIRED to pay the enter fee. Male Captains will also receive a National Tour Shirt and access to the Social Venues.

Policy Regarding Male Coaches?
- A Women's Team is allowed, but not required, to have a maximum of two (2) Male Coaches. If a Male Coach is ejected from a game or is otherwise ineligible to coach in a game, that Team may not appoint another Male Coach to take his place.
- Male Coaches are required to register officially for the Circuit Event like all Women's Only Event players. This includes signing the same waiver that all players must sign.
- Male Coaches must register prior to the Circuit Event registration ending. Cost of entry for Male Coaches is free at this time with the use of a coupon code "MALECOACH". However, Kickball365 has decided that Male Coaches are required to register and pay for the Women's Open Championship held at the Circuit Championship Weekend.
- Male Coaches are allowed to engage with Game Referees ONLY IF they are wearing the required Captain's Band during the Game.
- Note, the concept of a Co-Captain or "sharing" the Captain's Band does not exist in The Circuit.
- No part of the Rulebook should be interpreted to allow a Male Coach to play in any game either on offense or defense.