At Capacity
Membership Program 2015 Kickball · Any
Sold Out
Member Fees

Regular

$50.00

+ $2.95 Processing Fee
Kickball365 depends on the support and participation of this amazing membership community. Starting in 2015, Kickball365 is launching an annunal Membership Program. Become a Member to experience the satisfaction of helping to support ongoing initiatives for the good of the game, plus enjoy exclusive Member opportunities and benefits to thank you for your support.


As a member, you not only support the efforts of the organization and help the sport grow, but you also receive a host of exclusive benefits. Whether you are looking to play, watch, volunteer, captain, coach or support the growth of the sport, our membership program is designed for you.

Memberships are based on the calendar year (January 1 â?? October 1). Any memberships purchased will expire on December 1 of the current year. Memberships for the following year become available on January 1.
New members will receive the following in their membership:

BENEFITS
- "THIS IS KICKBALL 2015" SAVAGE Jersey ($35 value)
- Membership 2015 Towel ($15 value)
- Kickball365 Stickers (Co-Ed & Women Division) ($3 value)
- Various Members-only special offers - Additional details to be announced in 2015!
PRIVILEGES
- Vote for National Tour Awards for Circuit Championship Weekend (Regardless of #CCC attendance)
- Vote for Hall of Fame Candidates (Regardless of #CCC attendance)

SAVINGS
- Discounted Entry Fee on all Circuit Events (Save $5 per Event!)
- Exclusive Discount with National Tour Partner SAVAGE - 5% off all products available at www.savageultimate.com
- Exclusive Discount with National Tour Partner KickballStuff - 5% off all products available at www.kickballstuff.com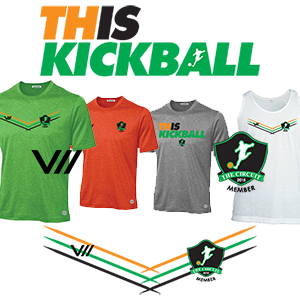 After payment is complete, each Member will receive a personalized promo code via email, which will be required to enter to discount all Event registrations. Member discounts are not eligible to be used on Kickball365 League Registrations. Memberships can be used for any purchase through 10/1/2015. This discount code is non-transferrable. If a member is caught sharing promo code, their membership will be voided without refund. All sales are final.

Membership Packages from SAVAGE shipments take 7-10 days to arrive. If you have any issues or a delivery is a no show please contact us.
Questions? Email us at info@kickball365.com